Welcome to the Plinth of Art!
HBO, unwilling to let a good thing go, has decided to capitalize on the goodwill generated by the Pillar of Art contest held last year and bring you another, somewhat less grand opportunity. We're rather fond of One One Se7en, Stuntmutt's comic tribute to Halo, but we felt that 30 or so strips a month in the Archive and another 30 or so in the daily slots were simply not enough - so we've fired up this contest.
Create a themed Guest strip, win a hand-mangled strip. Stuntmutt has lovingly hand-drawn 3 strips, and carefully placed each one in an expensive, hand-made frame. (Okay, maybe the frames aren't handmade. And maybe the strips were whipped together while downing a dodgy pint. In the grand scheme of things, though, does this matter?) He will ship these masterpieces anywhere he has to to get them out of his house.
The Theme: Create a One One Se7en strip on the subject of art. Confused? Check this out.
The Entering: Mail your triumph to plinth@bungie.org.
The Deadline: Entries must be received by January 17, 2004. (No, really, it's a random date. No significance whatsoever.)
The Judging: Entries will be judged on idea, humor (humour, even), artistic interpretation, and bribery. Judges are Stuntmutt and Louis Wu, mailing addresses for bribes available upon request.
The Prizes: Take home something that would grace the bottom of anyone's drawer.
Winner chooses the least-badly done of the three strips.
Second Place picks between the remainder.
Third gets what's left.
The Teaser: In case you're not already TOTALLY sold on the idea of this wonderful contest, here's a picture of a strip just like the one the winners will take home (except that theirs will have different pictures, different text, and will not be hanging on my wall):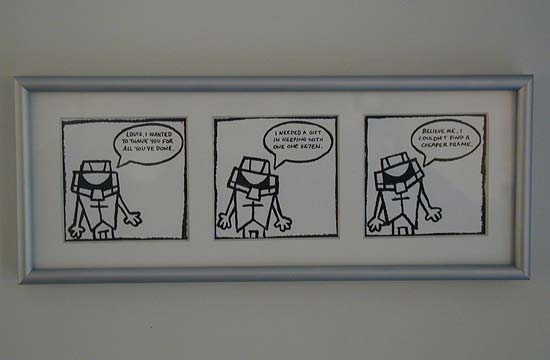 The Randomness: What art contest would be complete without a film? (2 mb, QuickTime format)